How to select your catering company in 4 steps
Choosing your catering company for your wedding or event is one of the most significant steps of the planning process. Part of the success of the event will rely on how good or bad the food was. We all heard stories about gorgeous decoration and amazing entertainment, but cold food, overcooked meals, not enough on my plate, etc.
Creating a successful experience is trusting your partners, thus choosing your suppliers wisely is crucial. Here is how I do it:
Research and Recommendations
When organizing an event in a small city like Geneva, it is easier to find a qualified chef or catering company. Friends and family always give us suggestions based on their own experiences and, we probably participated in an event or wedding where we loved (or not) the food.
Nevertheless, the moment we need to plan an event elsewhere, things get a bit complicated. My advice here is to always ask for referrals. The catering service should be able to provide you with some names of clients you can contact and discuss their services with.
Also, check out their social media profiles. You will easily find comments from other clients and partners, which could also be very helpful.Additionally, you should do some research beforehand (before calling or meeting with them) to see what type of events they cater, how long they've been doing this, what services they offer, etc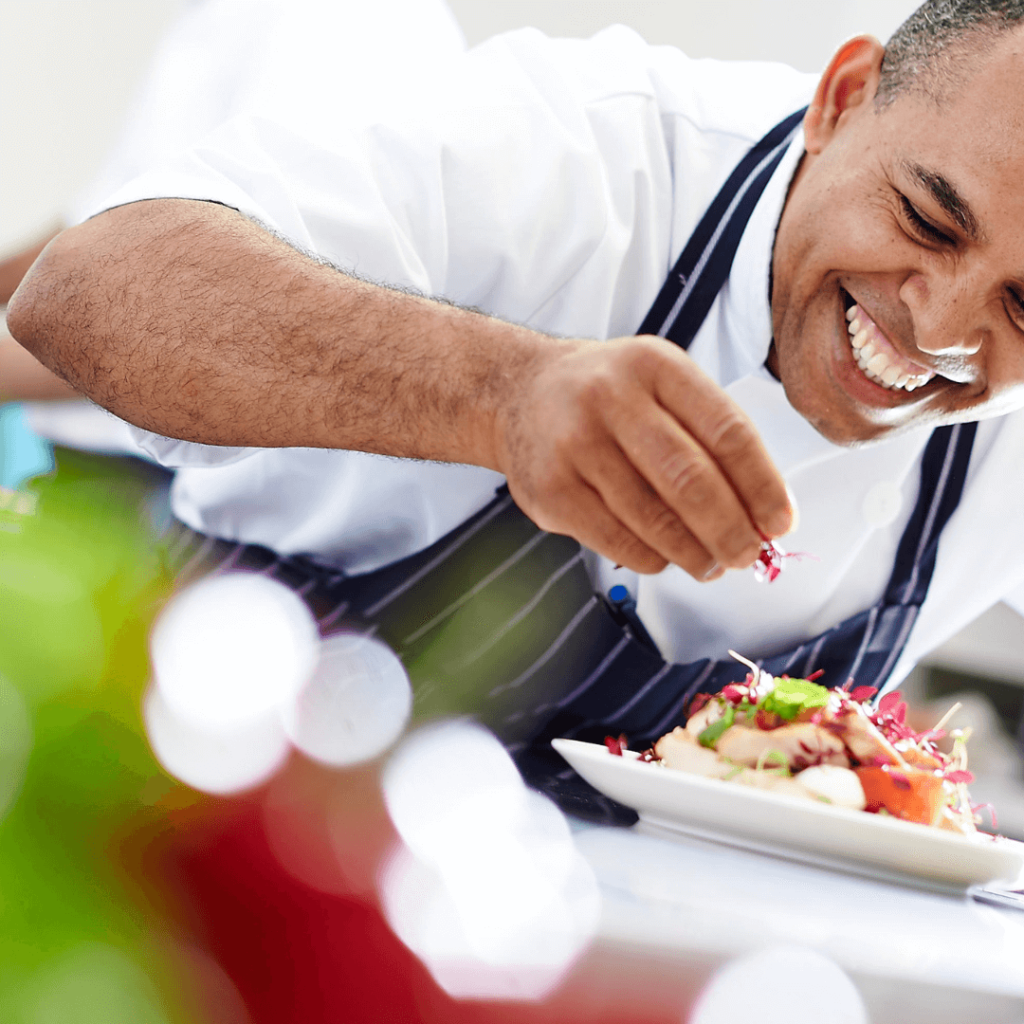 Ask and listen
Once you schedule a meeting with a chef or a catering company, come prepared. List all the questions you have in mind, even those you think are silly.
If you already have a clear idea of what you need, bring pictures, and suggestions and keep asking questions. The goal is to know them, learn about their flexibility, and find out if they can meet your needs. You need to feel at ease with them and sense their passion for their work. At the end of the day, chefs are artists and talented ones, are truly passionate.
Some questions could be:
– What type of events do you like to do most?
– How many weddings do you do per year? (or any other event)
– What is the most beautiful event you have catered?
– What type of cuisine do you like to cook? (French, Italian, Asian, etc)
After that, if you feel comfortable enough with your choice, you can move forward with more detailed information. They will need to know how you imagine the event, approximate timings, and who is tasked to be coordinating service with the kitchen (if you do not have a planner). Let them know the type of meal you wish to have, your likes and dislikes, and your favorite chefs and restaurants. Talk to them about everything you have in mind so they could propose a tailor-made service.
My primary concern is the origin of the products used. Nowadays, I try more and more to surround myself with partners who share the same values in terms of sustainability. So, if they use local products, with organic certification or similar, it is always an asset. Moreover, for a Geneva-based company, GRTA certification is now a must.
Talk about money
Discussing money is not easy, but it has to be done. And it is better if you talk about it from the beginning.
By the time you meet the catering company, you have to know the percentage of the budget allocated to the catering. Does this amount include beverages? What about service? What about tableware? …
Be transparent about what you would like to be included in their proposal. When you let them know your budget from the beginning, they will know there are limits considered and that you will not accept any "surprise" afterward.
If the catering company or chef comes from a referral, do not hesitate to show the proposal to your friends. Ask for opinions from professionals and compare them with other companies. This may come naturally, but if it does not, ask for a written proposal and always sign a contract. All your requests must be written to be sure they will be considered.
Gut Feeling
The importance of this point is unquestionable. How do you feel about the meeting? Have they answered all your questions? Did you get excited about the way they describe their services? Do you see working with them?
Your overall feeling is as influential as their reputation. Keep in mind that you are the client, but it is a team effort. They may deliver that little extra to wow your guests if your relationship is smooth.
Have fun!