5 looks to rock your music festivals
You probably already know that I am a huge fan of music festivals. As we are just ending the first weekend of Coachella 2023, one of my favorites, there is a lot to talk about.
Coachella is not just about music and art, but also about the unique festival experience it offers. The festival grounds are designed to be an immersive wonderland, with various stages, tents, and art installations scattered throughout. This creates a vibrant atmosphere where attendees can explore, discover, and connect.
But mostly, Coachella is also known for its fashion, with festival-goers often sporting creative and bohemian-inspired looks that are as much a part of the festival's culture as the music and art. From flowy dresses to eclectic accessories, Coachella has become a fashion playground where attendees can express themselves through their personal style. This makes it a unique and inclusive celebration of self-expression. It is a fashion playground where we love seeing an open-air catwalk.
Apart from the melodies and the performances, one of the most exciting aspects of these festivals is the opportunity to flaunt stylish and trendy outfits. Whether you're grooving to the beats of a rock concert or swaying to the rhythm of an indie band, here are some of the hottest outfit trends to rock this summer at music festivals.
Before diving into the classic looks, I must say that, no matter how you dress up for a music festival, there are 3 mandatory items to remember: comfy shoes (closed if possible), sunscreen, and sunglasses.
Boho Chic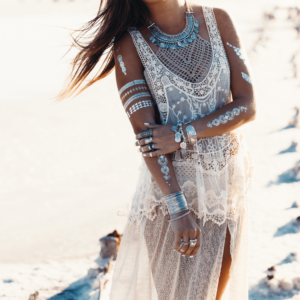 The bohemian or boho chic look remains a popular choice for music festivals. Think flowy maxi dresses, fringe tops, floppy hats, and stacked bangles. Opt for earthy tones like rust, mustard, and olive green, and embrace whimsical floral prints. Complete the look with ankle boots or strappy sandals for a comfortable yet fashionable vibe.
Statement Denim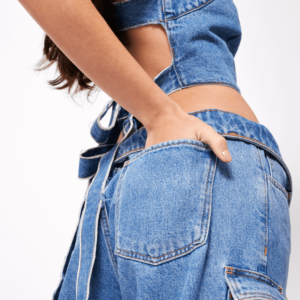 Denim is a timeless classic that never goes out of style, and it's perfect for festival fashion. This summer, go for statement denim pieces like distressed shorts, embellished jackets, or embroidered skirts. Mix and match different washes and textures for a trendy and edgy look. Pair your denim with graphic tees, crop tops, or lacy bralettes for a cool and effortless outfit.
Neon Brights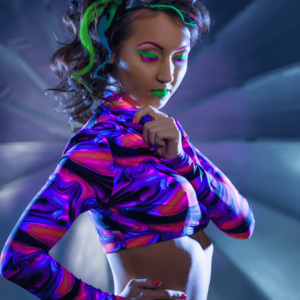 Make a statement in vibrant neon hues. Neon is a huge trend this summer, and it's perfect for standing out in a festival crowd. Rock a neon crop top, bike shorts, or mini skirt paired with chunky sneakers or platform sandals. Don't be afraid to go all out with neon accessories like sunglasses, jewelry, or even neon body paint for an eye-catching look.
Retro Vibes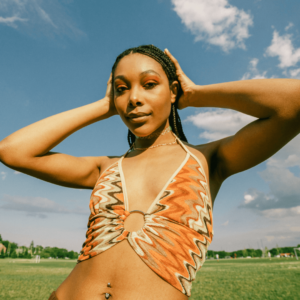 Retro-inspired fashion is making a comeback, and it's perfect for creating a unique festival look. Embrace the '70s with flared pants, fringe vests, and platform shoes. Channel the '90s with tie-dye tops, cargo pants, and chunky sneakers. Mix and match different eras to create a fun and nostalgic outfit that stands out in the crowd.
Sheer delights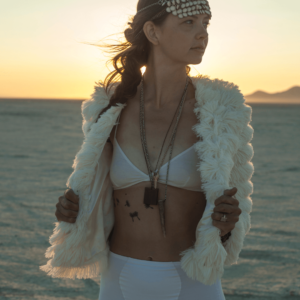 Sheer fabrics are a hot trend this summer, and they can add a touch of sensuality to your festival look. Choose light and airy dresses, crop tops, and kimonos. Layer them over bralettes, bandeaus, or bikini tops for a playful and flirtatious vibe. Complete the look with high-waisted shorts, ankle boots, or strappy sandals for a boho-chic twist.
Statement Accessories
No festival outfit is complete without the right accessories. Opt for statement pieces like oversized sunglasses, wide-brimmed hats, or chunky belts to elevate your look. Layer on necklaces, bracelets, and rings to add a boho or rock vibe to your outfit. Don't forget a crossbody bag or a fanny pack to keep your essentials handy while dancing the night away.