Summer Cocktail Hunting: Espresso Martini
It is officially summer and I am so curious to know what will be THE most served cocktail for the next 3 months.
I turned to Alban Mettere from Bam Mixo, who has a large experience in private and public events and, without hesitation he told me "Espresso Martini". I must confess I was surprised by his answer yet intrigued to know more.
"The Espresso Martini has the gift of being simple yet it could also be declined in so many ways: like the frappés that we love in the summertime. Vanilla, cinnamon, and salted butter caramel are some of the flavors that could be added", said Alban. Yummy and refreshing.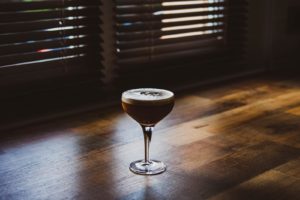 According to the International Barman Association
, the Espresso Martini has been listed in the New Era Cocktails since 2011. However, the origins of this cocktail bring us back to the early 80s in London. Dick Bradsell, an English bartender, tried to please a customer who wished for a drink to "wake her up and f@#ck her up".
Alban says "This could easily be the 2022 summer cocktail as it is already well-known in many English-speaking countries and it is the perfect cocktail for desserts"
He says that the Espresso Martini is the ideal cocktail to pair with a French dessert like a Tropezziane. Can you picture yourself sitting by the Mediterranean, watching the sunset, enjoying your Espresso Martini? I can.
As we normally expect to drink Champagne or sweet white wine with dessert, having an Espresso Martini is a pleasant twist during a summer dinner or wedding.
This year, the Espresso Martini is ranked #7 in the World Best-Selling Classic Cocktails. Try Alban's recipe and don't miss it: