Rules for hosting a unique dinner at home
There is nothing more extraordinary than throwing a dinner party at home. Sharing a meal in a familiar and cozy atmosphere brings people together.
Whether you host a large party or a more intimate one, let me walk you through some basic steps to have the perfect dinner.
Guest-list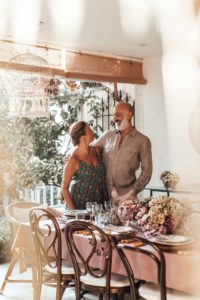 Before anything else, you should create your guest list and make sure you have enough capacity in your home to accommodate all your invites.
No matter if you live in an apartment or a house with a big garden/ terrace, make a realistic guest list so everyone is comfortable.
The number of people will also define other factors such as the type and size of dinner, the budget, and the catering service you may need.
Choose the playground
It is prudent to decide in advance where the party is going to take place: what rooms are you planning to use?
For instance, if you are having dinner in an apartment during summertime, you may want to use your balcony, rooftop, or terrace for welcome and after-dinner drinks, or even for the whole evening.
If you have a property with a garden, you may want to host the dinner outside. Or, in case you have just redesigned your kitchen, you may wish to do it there.
The same logic needs to be applied to the spaces that you do not wish your guests to have access to. A simple example could be your children's bedrooms.
Protecting your privacy and limiting access to staff and guests is very helpful when organizing an event in your house.
A catering company or a private Chef?
When you are planning to have more than 10 guests for your dinner, I would recommend choosing a catering company. On the other hand, if you would like to have an intimate dinner, a private chef would be perfect.
The difference between these two possibilities is the experience that you will be offering.
Having a private chef cooking in front of your eyes, and explaining to you and your guests everything about the menu is something unique. Chefs are so willing to do this, and it makes such an unforgettable gift for your guests.
However, this could only work if you are a small group. Otherwise, there is no intimacy and it could be logistically complicated.
For larger groups, however, working with a company makes sense. They will guide you through the menu selection to please the majority of your guests. They will also propose original options, and, in some cases, they could take care of the beverage selection and service staff.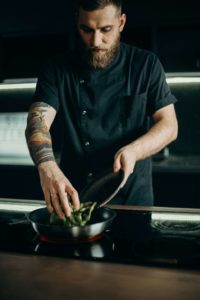 Have a theme
Don't get me wrong, having a theme doesn't mean a costume party. Basically, it is a guideline or common thread for the party.
You can style your dinner using a color or a theme that will facilitate the table decoration, the menu, and sometimes even the entertainment.
Invitations, menus, flowers, and any other kind of decoration should be consistent.
Gather your professional team
In this opportunity, I would insist on the importance of having an event planner coordinate your event.
The planner does not have to necessarily be there during the dinner, but they should be the invisible force behind the organization.
They will assist you with the timeline, coordinate the vendors, rent the material if necessary, prepare the decoration, set up, and most importantly, tear down and clean.
As mentioned previously, the catering team or Chef is also essential, the florist or decorator, service staff, or Maître d'Hôtel, entertainment team, and, why not, a photographer.
When collaborating with a professional planner, you also benefit from their supplier network.
Entertainment
Hiring a live band, singer or even a DJ will obviously depend on the type of event you will be hosting.
Make sure all your guests (including yourself) have a good time when you have an extensive number of guests.
There are other options like a professional mentalist or a stand-up comic, but nothing is better than live music.
After dinner
What better way to conclude the evening than with a selection of digestifs and cigars? Long conversations under the stars on a rooftop? Fireworks in the garden?
Make sure you have a grand final!
It's all about details
Details make all the difference from one party to another. You can personalize your dinner to ensure your guests feel unique and spoiled. From name seats to customized gifts, create a night to remember.