Destination Weddings: why not?
Nowadays, people look for different ways to express their love. Some couples like to keep traditions, but others are looking for experiences.
Destination weddings are an unusual and fresh way to say "I do".
It is a real boom, and we have seen its growth over the years. Although during the pandemic, they were unsurprisingly less popular, they are in high demand for 2023 and 2024.
What is a destination wedding?
A destination wedding is when the couple decides to organize their wedding day away from their home (where they currently live). It involves traveling for you and your guests.
What should you take into consideration?
When planning a destination wedding, you should definitely start earlier. I would suggest a minimum of one year before your wedding day.
Unless you know the destination by heart and you have a reliable network there, I would recommend working with a wedding planner or event agency. This will unquestionably save you time and money.
Another crucial point when starting earlier is informing your guests about your decision.
If your destination is reached by flight only, you will need to start working on that guest list asap. Therefore, once you have determined the date and booked the venue, you can send out the Save the Dates.
12 to 10 months in advance is perfect timing to let your invitees know about it and make their decision.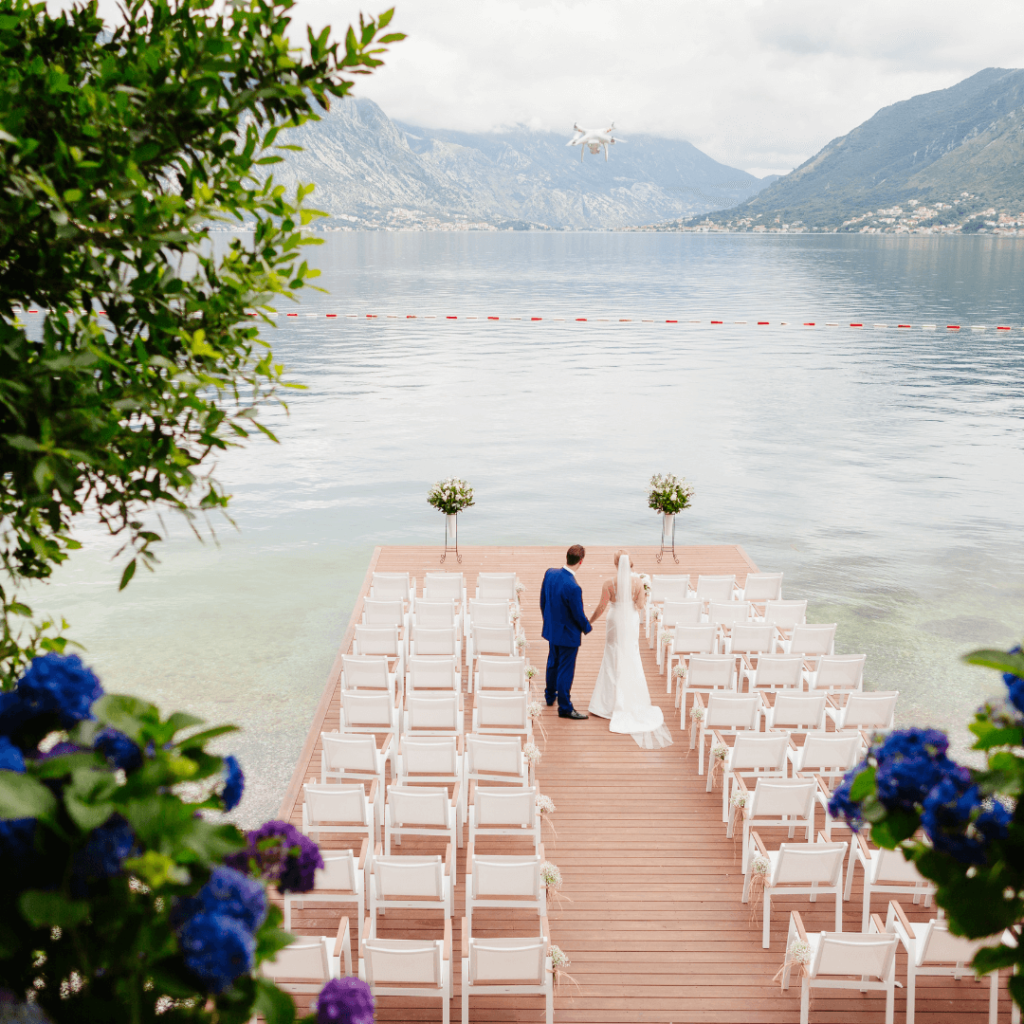 Where to go for a destination wedding?
There are as many possibilities as places in the world. It all depends on what you want as a couple: do you want a beach in Spain, Côte d'Azur, or French Provence? What about Paris? A lovely wedding in Toscana's vineyards? Winter wonderland in the Swiss Alps? A Greek island only for you? What about Vegas?
The location will mainly depend on your wishes and taste. Yet, budget and accessibility are also factors to be considered in the selection process.
Bear in mind that language could be a barrier. Therefore, if you are choosing an exotic destination, it is important to have the necessary staff to assist you and your guests.
Is a destination wedding more expensive?
Not necessarily. Again, it all depends on where you currently live and the wedding offers in your city, and where you would like to organize it.
From my own experience, I have organized many weddings for couples living in Geneva in mesmerizing locations throughout Europe.
Their reasons to do it in another city were not primarily related to their budget, but more about the experience. However, we managed to propose a bigger and more detailed event when being elsewhere. Having said that, some of them have saved up to 40% of their original budget.
In contrast, it is relevant to consider that a destination wedding implies a higher cost for your guests (travel, accommodation, etc.). Therefore, it is common to propose more services: a welcome cocktail or a Sunday brunch. Also, consider pre-arranging and negotiating hotel rates, proposing transportation, etc.
A vacation for everyone
Attending a destination wedding could also be a break for your invitees.
If you pick a touristic location, they could arrive earlier or stay longer and create a vacation out of it.
For instance, when choosing Barcelona as the place for my wedding, we thought that it could be a pleasant break for everyone. It is a city with a large cultural offer, amazing restaurants and bars, beach, nightlife, and direct flights from almost all over the world. Apart from the wedding, we were offering a full experience.
This also gives your guests another reason to be excited about coming to your wedding.
Your honeymoon's destination could easily be settled with a destination wedding. You could always stay in the same location or travail through the same country.
If you have questions or need more information on how to get started, let's chat!