The Importance of Team-Building

No matter the industry you find yourself in, you have most likely experienced a shift in your daily habits over the past two years.
The cancellation of the celebrations was one of the most disappointing parts of COVID. We essentially worked without any reward besides our paycheck: no restaurant, no trips, and no parties.
The fact that some people were forced to work from home, has also created a feeling of isolation. A great opportunity for gathering and getting to know each other is team-building.
Why does a company need to organize team-building?
A company can benefit greatly from team-building activities. It's been proven that group tasks increase communication between co-workers but also productivity, motivation, and collaboration. And, who knows? You may discover some secret skills in your staff.
There exists a long list of some interesting exercises to do during a team-working outing. Depending on your goal for the day, the event planner or company you hire will adapt the program around it.
It is important to understand what the day is for before you get started on it. These are a few points you might like to improve or work on during team-building:
Socializing
We have reduced the number of social interactions over the past two years. This is a great time to bring all of your old habits back or even create brand-new ones.
Once we understand our coworkers better, daily collaboration becomes easier. We often tend to judge people too fast without really taking the time for a meaningful conversation.
Any type of organization must get to know its employees. Know what their life looks like outside the working environment, their families, hobbies, etc.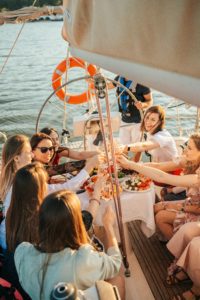 Communication and TeamWork
This is one of the main goals of any team-building day. Every company wishes its employees to get along well and strengthen their communication
By playing games in which everyone has to mingle with other departments, more fluid communication will occur between the various departments, and therefore, will benefit the organization.
Furthermore, because the employees are away from the office, they can talk more easily with each other. This in turn enables them to deal with their daily frustrations and resolve conflicts.
Increase Performance
After completing a series of team-building days, you will certainly learn more about each employee's strengths, weaknesses, and interests. As a result, you will be better equipped to decide how to consolidate each project's team and how they will collaborate on future company progress.
Positive work cultures begin when everyone gives their utmost effort. No two teams are the same, and no two individuals have the same skills. You will be able to achieve your team's collective potential once you can recognize and encourage everyone in their individual potential.
Leadership
There may be hidden gems in your company and, as mentioned previously, some exercises will help you to better understand the personality and skills of your employees.
Leaders sometimes rise in different environments, not always in an office. Being away from a corporate location inspires people to express themselves authentically.
When groups are created, there is always an Alfa soul that will take the lead. You may be surprised to meet your next manager during team-building.
Community Engagement
Giving back to your community is a noble way to improve your company image towards your staff, but also towards your clients and society.
There are plenty of actions you can organize throughout the year to increase the commitment and solidify the company culture.
Your company's image may be boosted by arranging a team-building activity focused on social engagement.
Celebrate & Appreciate
What have you accomplished this year? Say thank you to your employees! Appreciation and gratitude are crucial to creating loyalty to your organization.
After all, you are where you are now thanks to each individual that works for and with you.
How often a company should organize team building?
I personally think team-building is very important for any organization and it should be scheduled (and budgeted) regularly.
The frequency of each team building will depend mostly on the dynamics of your company and also the size.
For instance, for companies with 50 or more employees, I would suggest organizing 2 "Celebrate & Appreciate" gatherings per year. It could be the traditional Summer Party or BBQ or the End-of-the-Year party.
Community Engagement events could be organized once a year, choosing the date depending on the activity. It could not necessarily be a mandatory activity.
For the rest, it will depend on how the team is currently working.
When organizing team buildings to reinforce socializing, communication, or productivity, you may want to break them into different groups.
Some departments may need them more than others, therefore, sometimes it will not involve the whole organization.
Spread them during the year, trying to find the right balance and avoid scheduling them all together (we tend to do that when we want to enjoy spring and summer weather). Otherwise, your team will not look forward to it as you may wish to.
Check the main annual leave for the team and always, inform about it in advance so everyone can make sure they will be there.
Where should I hold team-building activities?
Outside the office.
As much as you can, try to organize activities in the open air. It has been proven that contact with nature facilitates inter-relationships.
This is not always easy, and of course, you need to have a backup plan in case of bad weather.
There are also amazing indoor places in each city where you can organize exercises or even parties. I would always recommend thinking out of the box and maybe theming each team-building.
If you can, hire an event company to handle the planning and organizing. You may think you gain by doing it yourself, but the time you spend on it is actually costing you.
However, if you feel like this can be handled internally, I wouldn't entrust the responsibility to just one department (typically HR). You should assemble a team that includes senior executives and department heads. In order to bring some creativity and innovation to the table, you need people from different backgrounds.
Feedback and results
As in every project, it is important to take the time to analyze the outcome of each team-building at the end of the journey.
If you are organizing them internally, make sure the team is getting feedback from the participants, your impressions may vary from the members' ones.
The results may come later in the year and grow gradually, you should just keep observing and adjusting. And remember, you can always do better next time.
Have fun!
Would like know more about Team-Building planning and organization ? Contact us!